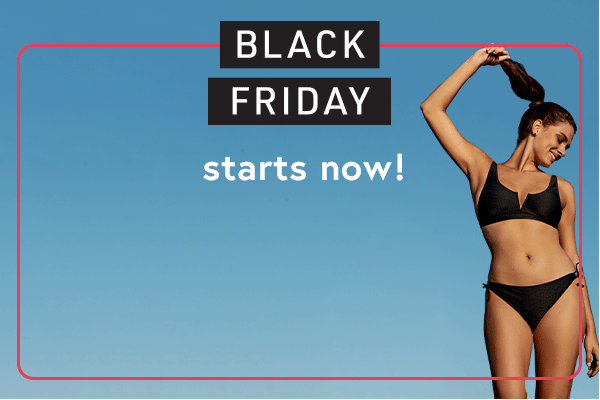 30% off
regular-priced items
30% off
regular-priced items
30% off
regular-priced items
Check out our categories to start shopping
The most common Black Friday questions
Q. What is Black Friday?
A. Black Friday event takes place once a year and it's the perfect moment to shop your favourite brands and styles at low prices. From women's swimsuits, bikinis, men's swimwear or beachwear, take advantage of incredible discounts on a wide selection of items. In addition, it is a great opportunity to shop for Christmas presents for everyone on your list, without breaking the bank.
Q. When is the 2022 Black Friday Sale at Bikini Village?
A. Our Black Friday deals start on November 25th, 2022, followed by our Cyber Monday deals on November 28th, 2022. Don't miss our incredible promotions! Be sure to subscribe to our newsletter to stay informed on the best deals.
Q. What items or brands will be on sale for Black Friday at Bikini Village?
A. Stay tuned to discover our 2022 Black Friday deals on the most sought-after brands and styles.
Q. Black Friday deals are only available online?
A. No, Black Friday deals are available online and in Bikini Village stores across Canada. Find a store near you.
Q. Can I take advantage of Black Friday to purcase my Christmas gifts?
A. Absolutely! Why not take advantage of the incredible Black Friday discounts for everyone on your Christmas list. Shop our swimwear, beachwear, bikinis, beach bags, boardshort and more at reduced price.